Tattoo Equipment & Supplies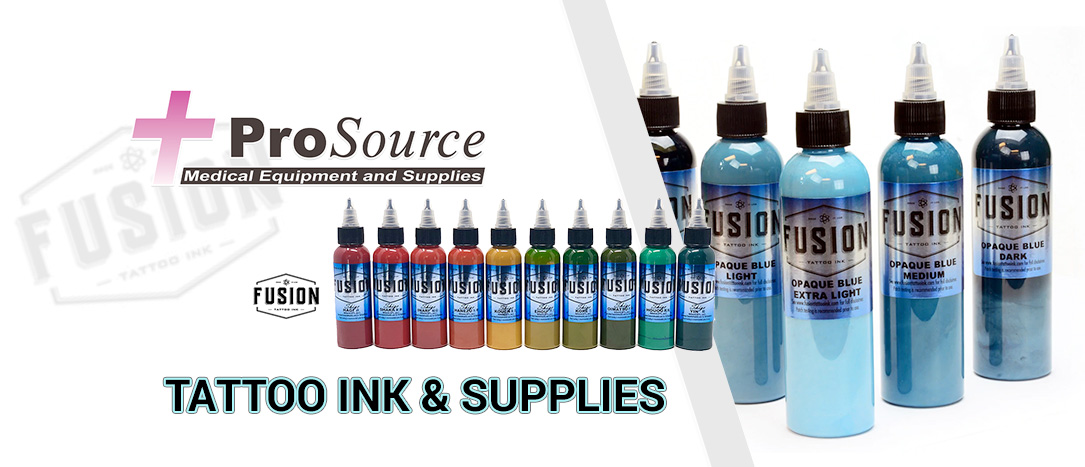 ProSource Medical Equipment has been providing licensed Oklahoma artists with quality supplies since 2009. We are Oklahoma's only recognized distributer for brands like Fusion and TAT Soul, and carry a full line of other top quality brands such as Eternal, Ink Eeze, Dynamic, Waterloo, Phantom, Opus, etc. We can meet all you shop needs from disinfectants such as Madacide, Sani-Wipes, and Green Soap, to aftercare like Purple Glide and Hustle Butter. Tubes and needles, machines and work stations, we do it all. We deliver to most of the Oklahoma City Metro area, and most deliveries are same day. So, give us a call 405-691-3237.
ProSource is the largest provider of tattoo supplies for licensed artist in the state of Oklahoma providing the best brands of tubes, needles, ink, cartridges, workstations, aftercare and gloves. We have been providing supplies and equipment for shops for almost 10 years, with delivery directly to your shop, most cases same day. Please, we only ask you provide us a current Oklahoma license or visiting artist license.
ProSource Medical carries your dental and veterinary supply needs. We carry items such as dental bibs, sterilization pouches, nitrile and latex gloves as well as underpads, gauze, sodium chloride and sterile water. These are just a few of the items we can provide you or your business. If we don't have it we can find it with a large number of vendors to draw from such as Invacare, Graham Field, Texas Medical, Medela, Nearly Me, Jobst, and Truform just to name a few.
Come see us at ProSource Medical in Oklahoma City, a locally owned locally run Oklahoma City business for over 20 years with a courteous staff many of them with 10 or more years of service.